Broken Heart Shayari, Lahu-Lahu Tha Dil
Very Sad Broken Heart Shayari in Hindi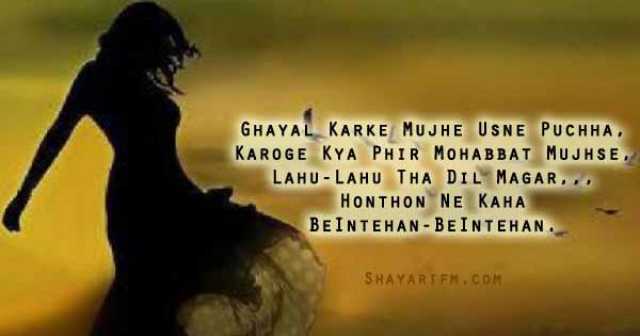 Ghayal Karke Mujhe Usne Puchha,
Karoge Kya Phir Mohabbat Mujhse,
Lahu-Lahu Tha Dil Magar,
Honthon Ne Kaha BeIntehan-BeIntehan.
घायल करके मुझे उसने पूछा,
करोगे क्या फिर मोहब्बत मुझसे,
लहू-लहू था दिल मगर
होंठों ने कहा बेइंतहा-बेइंतहा।
Toota Dil To Gham Kaisa,
Wo Chal Diye To Sitam Kaisa,
Man Bhara Yaar Badle,
Bewafa Huye Saaf,
To Fir Ishq Ka Bharam Kaisa?
टूटा दिल तो गम कैसा,
वो चल दिये तो सितम कैसा,
मन भरा यार बदले,
बेवफा हुए साफ,
तो फिर इश्क का भ्रम कैसा?
Mujhse Wasta Nahi Rakhna Toh,
Phir Mujh Pe Nazar Kyu Rakhta Hai?
Main Kis Haal Mein Jinda Hun
Tu Meri Kahabr Kyu Rakhta Hai?
मुझसे वास्ता नही रखना तो
फिर मुझपे नजर क्यूं रखता है?
मैं किस हाल में जिंदा हूँ
तू मेरी खबर क्यूं रखता है?