हिंदी में आँखों पर बेहतरीन शायरी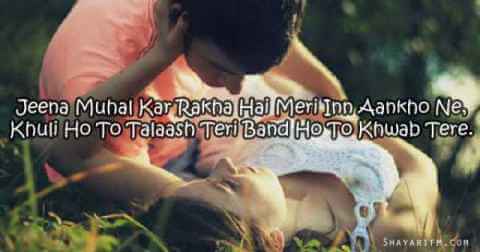 Jeena Muhal Kar Rakha Hai Meri Inn Aankho Ne,
Khuli Ho To Talaash Teri Band Ho To Khwab Tere.
ज़ीना मुहाल कर रखा है मेरी इन आँखों ने,
खुली हो तो तलाश तेरी बंद हो तो ख्वाब तेरे।


Kya Kashish Thi Uss Ki Aankho Mein Mat Poochho,
Mujhse Mera Dil Larh Pada Mujhe Yehi Chahiye.
क्या कशिश थी उस की आँखों में मत पूछो.
मुझ से मेरा दिल लड़ पड़ा मुझे यही चाहिये?
...Read More Shayaris